A bumper edition today - exciting new bike arrivals, 20% off the model the 50cycles owners are most likely to be found riding and news of how some of our bikes are making it easier for the Glastonbury Festival team to get ready for the event.


The Pro Connect Xions are here
You can now see and ride that latest version of the renowned Pro Connect in our showrooms. It's Kalkhoff's most radically altered model in 2013 and is also great value with a starting price of £1695 for the 24-speed model.
The Pro Connect X24 and X27 keep the usual sporty, lightweight frame but they're powered by the new Xion system, a German-made 250 Watt direct drive hub that performs silently even when giving a peak output of around 650 Watts for conquering hills and headwinds. There are two variations - the matt black 24-speed X24 comes with an 11Ah battery while the matt white 27-speed version offers greater range with a 15.5Ah power pack, giving a maximum Eco range of 105 miles.
The Pro Connect Xions come with regenerative braking system called Hill Descent Assist. You set your preferred downhill speed and any spare momentum is converted back into electricity to top up your battery. It's similar to the BionX system but with a much larger battery capacity, better controls and a lower overall weight.
Both the X24 and X27 come with a clear, informative TFT display panel and conveniently-located controls on the handlebars. There's also a button to operate the motor without pedalling as you walk it along. It's a bit of an all-rounder, cut out for both commutes across town and long rides out in the countryside.
Kalkhoff Ergo Impulse with heart monitoring technology - also available with a crossbar frame
The smartest and healthiest electric bike yet
And another new arrival...
The Impulse Ergo i360 NuVinci Harmony is the most sophisticated electric bicycle Kalkhoff or anyone else make. Combining the best-performing motor and battery combination on the market with fully-automatic transmission AND a wireless heart monitor has created a bike that uniquely works with your body to produce an utterly seamless riding experience. It can have your heart racing or beating away at a steady, relaxing rhythm for mile after mile - it's up to you which as you can pre-set your desired heart rate before setting off.
Or if you're on doctor's orders to cycle but not to overdo it, you can even set a warning to sound if you exceed a target heart rate. Your body, the bike's battery-powered motor and the Ergo's miraculous Harmony automatic gears all work in unison to maintain the effort you choose to put in and it will keep it up across undulating terrain and into stiff headwinds.
We've already had orders from people who do indeed need to maintain a steady rate of exercise, others who want to use the technology to lose weight, to maintain their overall fitness or just to enjoy the latest in e-bike technology.
The Impulse Ergo is an enhanced version of the long-established and much-loved Kalkhoff Agattu, so comfort, reliability, resilience and long range are guaranteed. See the world and grow stronger by the mile.
Special offer: 20% off Agattu C11 Premium Impulse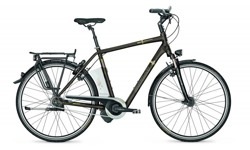 "It's rare to find a product that lives up to its blurb but I'm totally impressed with the C11. It's easy to pedal without power on the flat and even gradual inclines. It feels so secure and sticks to the road.


With the power assist I have gone up the steepest hill around here no probs and yesterday overtook a lycra man on the hill. After just two days I've covered 40 miles with more than half the power left, amazing! Highly recommend this cycle to anyone who wants comfort and long distance riding without getting exausted at the end of the day" Andy, Agattu C11 owner in Devon


The
Agattu C11 Premium
is currently my favourite model for longer-distance rides across Richmond Park and into central London because of its long range, sufficient power and speed to deal with any hills along the way, a commanding riding position, front and seatpost suspension with a ventilated, ergonomic saddle that makes it probably the most comfortable Kalkhoff ever.
Its 11-speed Alfine hub gears, Rapidfire shifter and multi-function LCD screen make it unique among the Agattus. It also comes with the latest 2013 Impulse software upgrade.
We have a small number of the
Gents 55cm (Large) Agattu C11 Premium
electric bikes left in stock. They're listed on our website at £2495 but by receiving this email you can save 20% on this price with promotional code
C1120
when checking out via
our website
, ordering over the phone or in our showrooms. The offer is valid on this model only with promotional code
C1120
and it expires at midnight on Saturday 16th June. All bikes are boxed, brand new stock from our warehouse.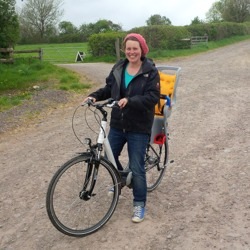 Lucy Smith with Agattu & child seat at the Glastonbury Festival site
Glastonbury Festival take delivery of Kalkhoff fleet
We've been supplying electric bikes to the Glastonbury Festival since 2007 because the organisers have found there a great way to reduce the environmental impact of travelling around the site's varied and quite testing terrain. This year we've supplied a fleet of Kalkhoffs to help more of their team to get around the vast site quickly and easily.
Pictured above is Lucy Smith, the Festival's Green Issues Coordinator, with an Kalkhoff Agattu C8 Impulse shortly after delivery last month. The rest of the fleet - a mix of Kalkhoff Agattus and a Sahel Compact, were delivered today as preparations enter their final stages before the gates open in less than three weeks' time. We'll bring your more news on what the bikes have been up to next time.
Finally, a new blog to bookmark
The new electricbikeman blog has been started by Scott, one of the 50cycles founders. It touches the wider issues of sustainable transport and what's happening with electric bikes around the world in Scott's inimitable style!
That's all for now, thank you for reading!
Tim & the 50cycles team